Welcome!

Church of the Holy Ghost is a Roman Catholic Community of Faith located about 25 miles west of Chicago, IL and about 5 miles from O'Hare Airport. We welcome all existing Parishioners, Newcomers, and visitors as well, to Holy Ghost Church and our Web Site. We hope you will enjoy exploring " All About Holy Ghost" as well as participating in our Worship Services.

Like us on Facebook, Church of the Holy Ghost, Wood Dale.

Click the blue button on the right to download Holy Ghost's myParishApp to digitally access Mass, readings, prayers, homilies, reflections, messages, Fr. Burke's blog, and more.

Go to the Diocese of Joliet website for links to streaming of daily Mass at 9 AM and on Sunday at 10 AM from Bishop Pates at the Cathedral, and for other important information.

Prayers and blessings to all parishioners and all affected by this coronavirus. I humbly ask that if you are able, please consider making a donation during these times. Please either mail it to us, go to our website www.holyghostparish.org and tap the red hearted hands to go to We Share, or go to the hearted hand Giving icon on myParish App. Thank you.

Fr. John Hornicak
Pastor

Sacrament of Reconciliation

Please call the office for an appointment.

A Prayer for Our Church

Heavenly Father, in every age,
you have been our refuge.
Yet again and still, we stand before you
asking for your protection on your Holy Church.
We place our Church in your hands,
for without you we can do nothing.
May Jesus, our High Priest and true compass,
continue to lead her in every thought and action
to be an instrument of justice,
a source of consolation, a sacrament of unity,
and a manifestation of your faithful covenant.

For the victims of abuse and their families,
pour out your healing and your peace.

For the leaders of your Church,
pour out your Spirit to guide them and
inspire their decisions.

For those who have followed your call to serve you
and your people in holiness,
sustain them by your grace.

For all the faithful who are searching for answers,
embrace them with your love,
restore their trust,
console them with your clear Gospel message,
and renew them with your sacraments.

We ask this in the name of your Son and our Brother,
and through the Holy Spirit, who lives and reigns with you forever and ever. Amen.

WeShare Online Giving

Thank you for your participation in our parish's online giving program. Your generous giving is appreciated by so many and helps our church thrive and reflect the Kingdom of God in our community.

To help us maintain and grow this mission, our parish transitioned to a new online giving tool-WeShare.WeShare makes it easier than ever for you to manage your online contributions and will save our church time and money. Click the Online Giving button on the right to get started or to log into your online giving account. Click here to get detailed information on WeShare.

If you run into any issues accessing your account, please contact Theresa Bero at Holy Ghost at 630-860-2975.

Thank you again for your help and for your commitment to our parish. We appreciate everything that you do for our community.

Capital Campaign Update

Our Capital Campaign, "Caring for Our Parish, Caring for One Another", continues to move forward successfully because of our parishioners' tremendous generosity. The parking lots have been resurfaced, concrete repaired, the roof replaced, and the skylights repaired. We continue to work toward paying down our old debt.

Please continue to use our Capital Campaign monthly envelope or click on the Online Giving button on the right to send your donation through WeShare. We thank you for your generosity.

Catholic Ministries Annual Appeal

2020 Catholic Ministries Annual Appeal Is Underway

"Be Kind and Merciful"

Pledge Your Gift to the CMAA

The 2020 Catholic Ministries Annual Appeal (CMAA) has begun with a mailing that our parishioners have received. The Appeal not only funds many of the operations of the diocese, it funds services that are of great help right here in our parish. For example, the funds support the Faith Formation Program here at Holy Ghost, as well as the Seminarian program to educate our future priests. We are lucky to have Aaron, our Seminarian, interning and helping here at Holy Ghost.

Please prayerfully reflect on how you can best support our annual appeal and help our parish reach its goal of $57,500. This year's CMAA theme is Be Kind and Merciful. In this spirit, the 30 ministries our CMAA supports, help us do God's work here on earth. Providing for these ministries is not only beyond the means of any one parish, the ministries benefit all of us, including our most vulnerable brothers and sisters. Every gift is important to the success of the CMAA.

Each pledge helps us to reach our goal. With your financial support, we can exceed this goal. Seventy percent of the amount we raise over our goal will be returned to our parish, for our needs.

Please make a commitment to the CMAA today by completing a pledge envelope available in the narthex, or call the Parish Office at 630-860-2975. You can make a gift online at www.jolietdioceseappeal.org or text "Donate" to 815-205-1949 from your mobile phone. Pledges can be paid in ten (10) installments. Our parish is counting on you for your support. Thank you for making the most generous pledge possible to this year's CMAA.
Margaret S. (Peggy) Gisburne
Click here to see the video of the Mass and Rite for Consecrated Virgins, celebrated on Sunday August 2, 2020 at Holy Ghost Church.
Click here for more information about the vocation of Consecrated Virgin.

Click the red hearted hands for online giving.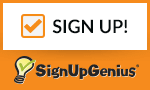 Click this button to sign up for Masses, Private Prayer, and Rosary.
The Assumption
of the Blessed Virgin Mary,
will be
celebrated at Holy Ghost with Mass
On Saturday, August 15th
At 8:30 AM
Please use Sign Up Genius
to register for mass.
Holy Ghost Radio
If you are in close proximity to Holy Ghost Church, tune to 99.1 FM radio to listen to live weekend Masses on Saturday at 4 pm, and on Sunday morning at both 8 and 10:30 am. While the low power signal is strongest in the church parking lots, Mass can be heard within a small radius of about a block away. You are welcome to join us through the medium of radio on 99.1 FM.
Palm Crosses
If you would like blessed palm crosses, please contact the parish office by phone at 630-860-2975, or by email at : joni@holyghostparish.org
Please provide your name, your contact information and number of crosses requested. When the crosses have been packaged, you will be contacted with pick up information.