Margaret S. (Peggy) Gisburne
Click here to see the video of the Mass and Rite for Consecrated Virgins, celebrated on Sunday August 2, 2020 at Holy Ghost Church.
Click here for more information about the vocation of Consecrated Virgin.

Click the red hearted hands for online giving.

Click the blue Download button above to download and install myParishApp to get the latest news from Holy Ghost.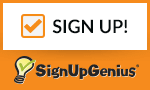 Click this button to sign up for Masses, Private Prayer, and Rosary.